Pricing a Home in Central Virginia
When listing a home for sale, I prepare a detailed Comparative Market Analysis (CMA) for my clients. This report includes Active and Pending listings, if they are available, and listings that have Sold in the past 6 months – 1 year depending on the amount of comparables.
1st – General Property Search.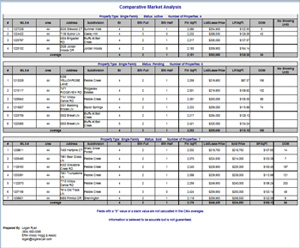 I run a search in the MLS (multiple listing service) for homes that are like your home. Some features that are important to match are:
Area
Age of Home
Condition
Square Footage
These results give me a general idea of what the market is doing in your home's area: average price; days on market; ect. I usually receive a lot of properties from this search and I run a quick pricing analysis.
2nd – Find Comparable Properties.
I narrow down the search results to find homes that are closely related to the subject property. Some of these features include:
Number of Bedrooms
Number of Bathrooms
Siding Type
Home Style
Garage
Basement
Land/Acreage
3rd – Choose Top Comparables.
Then, I choose 3-5 listings from each status category (Active, Pending, Sold).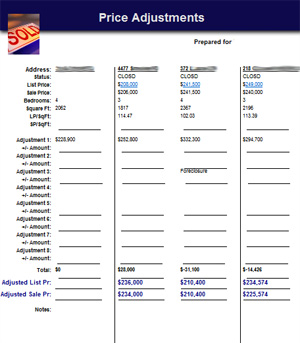 The active listings will help you to see the competition in your market. The pending listings show what properties are currently under contract. The sold listings are really the most important for deciding on a listing price, because these are homes the market has accepted and include the sales price.
4th – Line by Line Analysis.
I use a program to adjust values of the compared property vs. the subject property. The price indicator that I emphasis my analysis on most is $/SqFt. However, there are very few homes that are exactly the same, so I provide a price range to potential sellers with recommendations.
5th – Reviewing the Report.
When I present the report to potential sellers I included the full analysis from the initial averages to the final recommendation and explain the reasoning behind it. The reason I provide a price range is to help the sellers evaluate the best price based on their circumstances. Some sellers need to sell quickly and should price their homes more competitively on the lower end and some sellers have time on their side to test out a higher price on the range.
IMPORTANT NOTE: When choosing a price and listing your home, stay competitive and try to think like a buyer. If the price is too high, buyers will be turned off and if action is not taken quickly you will get less for your home than if you priced it correctly to begin with.
If you are thinking about selling a home and would like me to prepare a CMA for you, please click here and fill out the form. I would be happy to help!